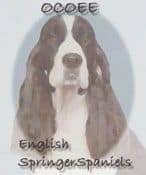 Here are the current dogs at Ocoee.



Gold Grand Ch.Ocoee DSQD With A Vengeance




This is George. He is from our spring 2008 litter by Ch. Sprucehaven Under Time NA NAP NAJ WD ex Ch. Will-Orion's Illusion.

George's career has been nothing short of amazing. He won Best in Sweepstakes at both 2009 Chattahoochee Specialty shows and at the 2009 Eastern ESSC Specialty. He completed his title with three five point Specialty majors (Eastern, Michigan and TCVESSA) and an extra major from the puppy class!

He was Best Puppy in the ESSCM Invitational Puppy Extravaganza.

George has had a wonderful career. Exclusively breeder owner handled by Melanie, he is a multiple all Best In Show winner and has 42 Specialty Best of Breed wins including both the 2013 and 2016 National Specialties! He is the all time top specialty winner in the history of the breed. He finished 2013 as the #1 Springer in America all systems.

George was in the top ten breed competition for six consecutive years, though shown sparingly and since the end of 2013 only at Specialty shows.

At the 2012 National Specialty, George was the People's Choice Award Winner at the Top Twenty event, and won a Judge's Award Of Merit! He was also sire of the lovely puppy that won Best In Sweepstakes at the National. AT the 2013 National he not only won the Breed but also the Top Twenty competition!

George is OFA fair, OFA Cardiac Normal, OFA Patella Normal, OFA Eye Normal and a PRA DNA carrier.

He has 25 CH children and earned the honor of ESSFTA Sire of the Year for both 2013 and 2017!

To see his pedigree click on his photo.

Click here to see many more photos of George and follow his career!
Theo is the boy we kept from Ch. Silverhill Sea Dog Go out of Ch. Ocoee Absolute Possession. He was born January 11, 2009.

Theo has been a breeders dream come true. He started his career with:

Best in Sweepstakes at the National Specialty from the 6-9 class and 1st in the regular 6-9 class!

Following this auspicious debut, Theo never looked back. Shown in nine Specialty Sweepstakes, he was Best In Sweeps at six of them and Best of Opposite Sex at one.

He finished his title by going BW and Best Puppy at American Spaniel Club in 2010, then two weeks later going WD at Chattahoochee ESSC, then at his very next Specialty (Susquehanna Valley) he was BW for his third Specialty major and his title at 14 months of age!

At just two years of age he was Best In Show at the Chattahoochee Specialty show over a huge entry and the following year he once again won Best of Breed at Chattahoochee.

At the 2012 National Specialty, Theo thrilled us by winning first award of merit in an entry of 88 Specials. His career took a back seat to George but we are very proud of his wonderful wins in extremely limited showing.

Theo is the sire of 10 American Champions and three Canadian Champions.

Theo is OFA hips Excellent, OFA Cardiac Normal and OFA Eye Normal.

Theo sired only seven litters of puppies before having to be neutered due to a complicated hernia surgery. Unfortunately we do not have semen on him, but we have his his sons Benny and Henry and grandson Russell, all pictured below. Theo found his perfect forever home with a wonderful gentleman named Mike Cain. He loves being a spoiled only dog!

To see his pedigree click on his picture.


Ch. Ocoee Go Figure

Ch.Ocoee Figure It Out

Benny is Theo's first born son, out of Ch. Pawmarc Ocoee Light The Way.

He has been so much fun! Best of Winners for five points at his very first show at seven months of age, then Best in Sweepstakes at American Spaniel Club, then Best of Winners at WESSA, then Best in Sweeps and Puppy of the Year at ESSCM!

Benny finished as BW at the Des Moines Specialty in September 2013. He is OFA hips Excellent, OFA elbow normal, OFA Cardiac normal, OFA Eye Normal, OFA PFK Normal and a PRA DNA Carrier. He is SO LIKE his ancestor Living Proof, I absolutely adore this dog.

Benny has proven to be a wonderful and consistent sire. He has 25 CH children to date.We were proud to have him recognized as Parent Club Sire of the Year for 2018.

Benny is retired and in a fantastic private home nearby. Excellent quality frozen semen breedings are available on him.

To see Benny's pedigree click on his photo.
Jolie is the only girl from two breedings of our Ch. Ocoee Absolute Possession to GCh. Silverhill Sea Dog Go. It only takes one if it is a great one and that is what we think Jolie is!

Shown only a mere handful of times, Jolie won Best in Sweepstakes, BBE Sporting Groups and BW at TCVESSA, BW and BOS at ESSFTA Supported entry show at Ft Wayne, and to finish she was WB, BW and BB over many specials at TCVESSA under breeder judge Judi Andersen!!

We think that Jolie is one of the best bitches we have ever bred and her producing ability proved us correct. She has seven Champion children that have all had outstanding wins in top competition.

Jolie is OFA Hips Good Eye Normal Cardiac Normal and a PRA DNA Carrier.


Ch. Ocoee Go Wild

GRCHS Ocoee Away We Go

Zac Brown is the boy that we kept from the second breeding of Theo and Millie. He beautifully represents the best of both of his parents.

Shown only five weekends and at the National, Zac finished with three Specialty majors, two Best in Sweepstakes and first in his sweeps class at the National. He is OFA Good, Elbow Normal,Cardiac Normal, Patella Normal and eye normal.

Zac moved to the Pacific Northwest where he had a brief specials career with Ellen Cottingham, becoming an all breed and specialty Best in Show winner and a top ten Springer. He is the sire of three Champions. He is now on the east coast with Lisa Knight, Chivalry ESS and is available at stud with her.
To see Zac's pedigree click on his photo.
Penny is by Gold GCH Ocoee D sqd With a Vengeance out of Ocoee Light In The Moon. She finished her title so fast we barely got to enjoy showing her! Four majors all from the puppy or BBE class, including a Specialty major and a Specialty Best in Sweepstakes.

Penny is OFA Good, OFA eye normal, OFA Cardiac Normal and PRA DNA normal.

Miss Penny went to live with our friend Ben Early (he needed a personal bed dog!). We couldn't be more thrilled with her producing ability. Son Russell finished in a flash with all majors, daughter Elle finished with two specialty majors, son Henry finished shown only five weekends with four majors from the BBE class, young Katie finished with all majors from BBE, sister Maybelle finished with a five point major and her brother Cameron is well on his way with two majors.




Ch. Ocoee Vengeance Is Mine



Ch. Pawmarc Ocoee Dazzled By Magic

Beautiful 'Tiffany' came to us from our long time friend and collaborator Pat Wilaby Jansen at Pawmarc. She is by Ch Tiffany's Esspecial Magic Kingdom out of Grand Ch. Pawmarc Dazzle Me Bright. Tiffany's pedigree incorporates many of our dogs from the past.

Tiffany was 1st in a very large 6-9 class at the 2013 National Specialty and BOS in Sweeps at Chattahoochee in 2014. Shown only a handful of times she finished her title before her second birthday with four majors, the final one coming as five points at the 2015 Chattahoochee Specialty!

Tiffany is OFA Hips Good, Elbows Normal, Eye Normal, Cardiac Normal and PRA DNA Normal. She gave us four Champions including a Specialty Best of Breed winner and a son who went to Argentina and is currently the #1 Sporting dog there. Tiffany has retired to a private home where she is loved and spoiled.
Russell is the boy we kept from the May 2014 litter by Ch. Ocoee Figure It Out ex Ch. Ocoee Vengeance Is Mine. We just love him! His first Specialty weekend at Chattahoochee he won three out of four of his 6-9 classes. His very next show was an ESSCM supported entry where he was BOS in Sweeps and BW for a major from the BBE class at ten months of age. He then won two big Specialty majors from the BBE class at 12 and 13 months of age, and finished with another four point major at the ESSFTA supported entry show when he was 17 months old! Russell easily finished his Grand CH in 2018 and became a Specialty Best of Breed winner.

Russell is OFA hips excellent, elbows normal, cardiac normal, PFK normal, eye normal and PRA DNA normal.

Now six years old, Russell is proving to be an outstanding sire. He already has five Champions with many more on the way.

To see Russells pedigree click on his photo.


GRCH. Ocoee It Figures!



GRCH Ocoee You Only Live Once

By Ch Ocoee Go Figure ex Ch Ocoee Vengeance Is Mine, Henry is very special to us because he is our last Theo son. He was born 5/23/2015.

Shown only five weekends Henry won a Specialty Best In Sweeps and four majors (4-4-4-5) from the BBE class, three of them at Specialties.

Just beginning to be used, Henry already has four Champions and many lovely youngsters that will debut in 2020. We are so excited about his producing ability.

Henry is OFA hips Good, Cardiac Normal, Eye Normal, PFK Normal and a PRA DNA Carrier.

Shown sparingly in 2018 by Lisa Arnett, Henry completed his Grand CH and thrilled us by winning BOS at the National Specialty show under Spaniel Specialist Doug Johnson. Now enjoying the good life at home, we look forward to Henry being an important contributor to our breeding program.
| | |
| --- | --- |
| This is Pixel! She is by Ch Blackpearl N TDP Star Studded Banner ex Ch Ocoee Go Wild! Pixel had a dream career in the classes, finishing with four Specialty majors all from the BBE class, culminating with WB at the National Specialty in 2018 under Doug Johnson! We greatly anticipate Pixel's contributions to our continuing program. She gave us three beautiful daughters sired by Russell which will debut soon. After that litter she went to the 2019 National in California and was awarded a Judges Award of Merit! Bred to Henry she gave us a very exciting son who currently has 12 points, two majors from the puppy classes. Pixel is OFA hips good, cardiac normal, eye normal and a PRA DNA carrier. She gave us another beautiful litter by Russell in March of 21. | CH Ocoee High Resolution |
| | |
| --- | --- |
| CH Ocoee Hourglass Figure | Katie is also by CH Ocoee Figure It Out ex Ch Ocoee Vengeance Is Mine. She is from the repeat breeding. Katie waited in the wings while Pixel was shown in the BBE class. Once Pixel was finished Katie hit the ring with a 'vengeance' with Kathy on her lead and finished in a heartbeat with four majors (three of them at Specialties), always Best of Winners and all from the BBE Class. Katie gave us five gorgeous puppies in February 2020, sired by Zac Brown. Katie is OFA hips good, cardiac normal, eye normal, PFK normal and PRA DNA normal. |
Ethel is by GCH Ocoee It Figures! ex Ch Pawmarc Ocoee Dazzled by Magic. Shown by both Kathy and Melanie, Ethel zoomed to her Championship with four majors from the Puppy and Bred By Classes and also had a BB over specials and a group placement. She is one of the sweetest, cutest dogs we have ever owned. Ethel gave us a lovely litter in July of 2020 by Henry. We are looking forward to a summer 2021 litter from her.

Ethel is OFA Good, Elbow Normal, Eye Normal, Cardiac Normal, PFK normal and PRA DNA Clear.





Ch. Ocoee Dazzling Figure
Click here to see many more Champions bred and owned by Ocoee
Back to top