Welcome to OCOEE English Springer Spaniels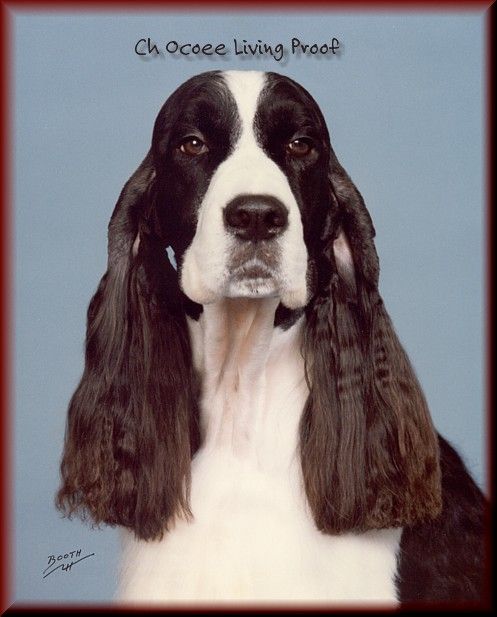 Successfully breeding for stable temperament, health, soundness and strict adherence to the breed standard since 1972. Our breeding dogs are fully health tested and all results are available to the public on the Orthopedic Foundation For Animals website.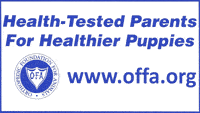 Please explore all the pages of our site to learn about us, our dogs and our strong commitment to the sport of purebred dogs.
We are American Kennel Club Breeders of Merit. To date we have bred 73 AKC Champions.

Our kennel prefix, OCOEE, is registered with the American Kennel Club for our sole use in registering English Springer Spaniels.
Our limited, selective breeding program is jointly operated by the mother and daughter team of Kathy Lorentzen and Melanie King. Our goal is to breed excellent quality show dogs that meet the requirements of the breed standard but more importantly we strive to provide healthy, loving, sound Springers to people who desire a top quality companion, obedience or agility dog. We have forty seven years of experience with this breed and will do everything in our power to provide you with a happy, stable, well socialized puppy that is as free as possible from health and hereditary problems. We believe in utilizing both art and science in our program. Artistic breeding makes them beautiful and assures that they are true to the breed standard. We also use every bit of science available to us to be certain that our dogs are as healthy and long lived as possible. We are long time members of the English Springer Spaniel Field Trial Association, the Parent Club of the breed.
Interested in a puppy?

We are so pleased to announce that we are expecting two litters the third week of July! contact Kathy at kathylorentzen@icloud.com for complete information.




First litter parents are pictured below. You can read more about these dogs on our Current Dogs Page


| | |
| --- | --- |
| GRCH Ocoee You Only Live Once | CH Ocoee Dazzling Figure |
These are the parents of the second litter. This is a repeat of a breeding that we did last year that produced beautiful puppies.
| | |
| --- | --- |
| GRCH Ocoee It Figures! | CH Ocoee High Resolution |

View some of the beautiful ads for our dogs that have appeared in various publications.



George has his own page! Follow his amazing career here.



May 20, 2017. A new breed record!

We are proud and gratified to be the breeders of many Parent Club award winners and National Specialty winners. These accolades mean the most to us as they are earned in competition with our peers. George, on the left, is the all time top Specialty Best of Breed winner in the history of the breed with 42 wins including three National Specialties. He has also been awarded Parent Club Sire of the Year on two occasions and has 25 Champion offspring. Benny, on the right, was awarded Parent Club Sire of the Year in 2018 and is also the sire of 25 Champion children.

We have also had many top wins at National Specialties, including three times best of breed, once Best of Opposite Sex, Twice Best In Sweepstakes, once Winners Dog and Best of Winners, once Winners Bitch, plus several Judges Awards of Merit.






2018 Parent Club Sire of the Year
OCOEE English Springer Spaniels


We are located in mid Michigan


Kathy Lorentzen email Kathy


Melanie King email Melanie



Visitor count

Website created and managed by K-LO Designs, Kathy Lorentzen. Copyright. Last updated 5/20/2020