Welcome to Ocoee English Springer Spaniels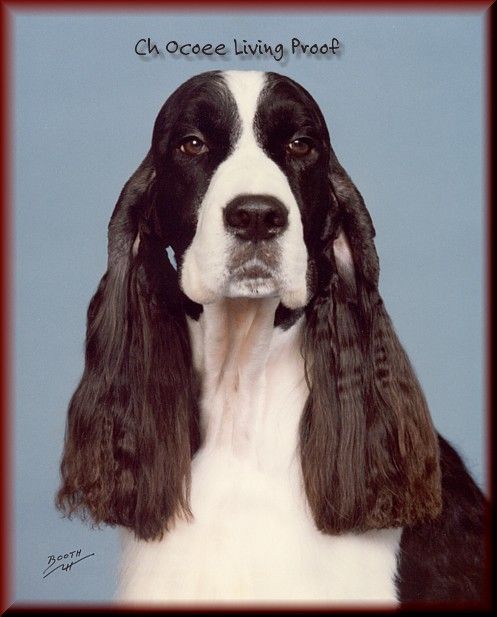 Successfully breeding for stable temperament, health, soundness and strict adherence to the breed standard since 1972. Our breeding dogs are fully health tested and all results are available to the public on the Orthopedic Foundation For Animals website.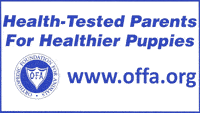 Please explore all the pages of our site to learn about us, our dogs and our strong commitment to the sport of purebred dogs.
We are American Kennel Club Breeders of Merit. To date we have bred 60 AKC Champions.

Our kennel prefix, OCOEE, is registered with the American Kennel Club for our sole use in registering English Springer Spaniels.
Our limited, selective breeding program is jointly operated by the mother and daughter team of Kathy Lorentzen and Melanie King. Our goal is to breed excellent quality show dogs that meet the requirements of the breed standard but more importantly we strive to provide healthy, loving, sound Springers to people who desire a top quality companion, obedience or agility dog. We have forty four years of experience with this breed and will do everything in our power to provide you with a happy, stable, well socialized puppy that is as free as possible from health and hereditary problems. We believe in utilizing both art and science in our program. Artistic breeding makes them beautiful and assures that they are true to the breed standard. We also use every bit of science available to us to be certain that our dogs are as healthy and long lived as possible. We are long time members of the English Springer Spaniel Field Trial Association, the Parent Club of the breed.
We have exciting plans for winter and spring puppies!
Due early January 2017-Ocoee You Only Live Once ex Ch Pawmarc Ocoee Dazzled By Magic. This is a black to black breeding but quite likely will produce both black and liver puppies.

Due late winter 2017-Ch Ocoee It Figures! ex Ch Ocoee Go Wild. This will be an all liver litter.

Due spring 2017-Ch Ocoee Out Of The Wild ex Ch Ocoee Vengeance Is Mine. This is a black to black breeding but will likely also produce liver.
These are the sires of our upcoming litters



Ocoee You Only Live Once


Henry is the last son of our outstanding producer, Ch Ocoee Go Figure. We are very excited for this, his first litter.




Ch Ocoee It Figures!


Russell is quickly becoming an all time favorite here at Ocoee! He has three young litters on the ground for other breeders and we can't wait to have our own Russell babies!




Ch Ocoee Out Of The Wild


Samuel lives in Texas with Karen Clower. Karen showed him to his championship with wonderful wins that included four majors, two of them at Specialties!
And these are the dams




Ch Pawmarc Ocoee Dazzled By Magic


We are so excited to have bred Tiffany to Henry because they compliment one another perfectly! These should be super typy, top quality puppies with darling sweet, loving personalities.


Ch Ocoee Go Wild


Jolie is most likely the best bitch we have ever bred. She was a top winner in the ring and is now proving her worth as a producer. This breeding to Russell will be her last.




Ch Ocoee Vengeance Is Mine


Princess Penny lives a life of leisure with her best friend Ben Earley and comes to Ocoee once a year to have babies. She is an amazing producer, as is evidenced by her sons Russell and Henry! Her Samuel puppies should be stunning. Can't wait!

Ocoee Springers with their children!

View some of the beautiful ads for our dogs that have appeared in various publications.



George has his own page! Updated 1/2015 Click the bullet!
---
Kathy Lorentzen
13577 Harris Rd.
Chesaning, MI 48616
(989) 493-1269
Email Kathy
Melanie King
13350 Nichols Rd.
Burt, MI 48417
(989) 244-1515
Email Melanie
---
We are so proud to be the home of two time National Specialty Best of Breed winner 'George'. Handled exclusively throughout his career by his breeder owner Melanie, George was the Nations #1 Springer all systems for 2013, which was also the year he won his first National and The Top Twenty. Since the end of 2013 he has been shown only at Specialty shows. He has been in the breed top ten for five consecutive years and is currently the winner of 31 Specialty Best of Breeds. He won his second National in 2016 from the Veterans class.

Our heartfelt thanks go to B.A.Breese and Liz Kiener for their belief in George and their unwavering support. We could not have done this without you.
Visitor count
Website created and managed by K-LO Designs, Kathy Lorentzen. Copyright. Last updated 11/03/2016