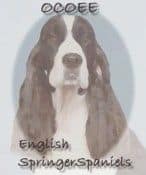 All about Ocoee Springer puppies.



Kathy and Melanie are pictured here with five consecutive generations of happy, healthy and beautiful Springers.

Everybody loves puppies, and there is nothing cuter than a baby Springer! But before you decide to "take the plunge" and purchase a Springer puppy, there are a number of things you should know about this breed.

Springers are bright, active dogs. They require a fair amount of exercise and a lot of mental stimulation or they can become bored and destructive. This breed is very people oriented and they want (and need) a lot of family interaction. They do best as house dogs with access to a large fenced yard to run and play in.

All puppies should be taken to kindergarten puppy training and at least one basic obedience class. This training creates a bond between you and your puppy and gives your puppy the basic skills it requires to become a happy family member. Puppies need to know their place in the structure of their surroundings, and early training helps them to understand that the human members of the family are always in charge!
Springers are a double coated breed, and they grow a fair amount of hair. They require regular brushing and trimming or they will become matted and unkempt looking. They shed some hair year around and "blow" undercoat once a year. If you are going to have a Springer, you will either have to invest in clippers, scissors and the like and learn to do it yourself, or plan on having your dog regularly groomed by a professional (at least four times a year). In between groomings your Springer should be thoroughly brushed once a week.

Every drop eared breed can be prone to ear infections so your Springer should have his ears checked and cleaned on a regular basis.

Health problems exist in every breed of dog, and some that can occur in English Springer Spaniels are hip dysplasia, retinal dysplasia, Progressive Retinal Atrophy and epilepsy. To reduce the risk of any of these things occurring in your puppy, be sure to buy a puppy from parents with certified hips and eyes, and ask about any other problems that have occurred in the "family" also.




This is what we strive for-breeding dogs that grow up healthy, happy, social and beautiful. This photo from our 2010 annual puppy party shows ten dogs from several different litters that were born at Ocoee, having a great day together!
On the left is Pat Wilaby of Pawmarc Springers in Snohomish, WA and on the right is Sandy McKinney of Hunter Springers in Las Vegas, NV. They are pictured with their puppies from our summer 2013 litter by Ch. Ocoee Figure It Out ex Ch. Ocoee Go Wild!

At Ocoee, we strive to produce the healthiest, happiest puppies possible. We breed only to advance our line of show dogs, never just to supply a market. We raise our puppies "underfoot" to assure that they are extremely well-socialized, and we utilize Dr. Carmen Battaglia's program "Developing High Achievers" on all our puppies to give them the very best start in life.

Our puppies have Champion parents with certified normal hips and eyes and outstanding temperaments. Ready to go to their new homes between 8 and 9 weeks of age, the puppies are vet examined, eye checked, completely parasite free (internal and external) and started on their vaccination program. Our companion puppies are all sold with spay/neuter agreements.

We do our utmost to match each puppy with the right family. The sex and color of a puppy are secondary in importance to the puppies individual temperament and energy level, and this is where our experience comes in-we will select the puppy that will best suit your household.

Please understand that we DO NOT sell puppies on the basis of their markings. Every Springer has unique markings and that is a part of the charm of this breed.
Two very exciting litters are here!
April 30 FLASH! The George and Bella babies have arrived! two black and white girls, one liver and white girl, two black and white boys!


Three of the George/Bella babies at six weeks with their first haircuts!

Gold Grand CH. Ocoee D sqd With A Vengeance (George) ex Ch. Legendary Elegant Shimmer (Bella). George is Parent Club Sire of the Year and Show Dog of the Year for 2013. Bella is dam of Ch. Ocoee Out Of Bounds, a young son from her first litter that finished quickly in CA.

Please email Melanie for more information on this litter.



Born May 19 Ch. Ocoee Vengeance is Mine (Penny) sired by Ch. Ocoee Figure It Out (Benny). This is the first litter for Penny. Four gorgeous babies, two black and white girls, one black and white boy, one liver and white boy.

Please email Kathy for more information. One reservation for a boy is available.

Photos of all the parents of these litters can be found on the Current Dogs Page. Please feel free to call or email either Melanie or Kathy with any questions or just to chat about our puppies.
Website created and managed by Kathy Lorentzen. All content and graphics are Copyright Ocoee 2014.