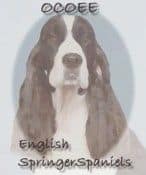 What's new at Ocoee.
Willie completed his Championship title with all majors (five of them!), most of them coming at Specialty or supported entry shows. He was completely owner handled to his title by Laura Burke.

Willie is from the repeat breeding of Ch Ocoee Figure It out ex Ch. Ocoee Go Wild. He is the treasured house pet of the Burke family. We thank them for finishing him so handsomely!




CH Ocoee Born To Be Wild
| | |
| --- | --- |
| Ocoee Rush The Quarterback | Young Cameron has begun his career with his owner Bonnie Buchanan by going BOS in Sweepstakes at the ESSC of San Fernando Valley. Cameron is the younger full brother to Russell and Elle and we will watch his career with great interest! |
Brady has just begun his career and is shown here going BW for four points at the Gateway
Cities ESSC Specialty! He is by CH Ocoee Legendary Figure out of Ch Ocoee Go Wild!

He is owned by Terry Townsend in California and shown by Nancy Amante. We think he is super handsome and look forward to him having many more nice wins!




Ocoee Legendary Player
| | |
| --- | --- |
| CH Ocoee Wild Ride | Congratulations to new CH Ocoee Wild Ride (Enzo). He is by Ch Ocoee Figure It Out ex Ch Ocoee Go Wild. He is owned by Joyce Bailey in California and was handled to his title by Nancy Amante. He will soon have more titles behind his name! |
| | |
| --- | --- |
| Elle is Russells littersister. She lives in California with Bonnie Buchanan. She currently has two four point majors and we look forward to her finishing soon. | Ocoee Dolphan Diva |



Grand Ch Ocoee Wild About Hunter

Wesley and his owner handler Sandy McKinney had a wonderful 2017! They compete as both a Special and in the AKC Owner Handler Series. Wesley is a multiple Sporting Group winner, with many additional placements, and he is a Multiple Owner Handler Best In Show winner. Wesley finished 2017 as the #1 Springer in the AKC Owner Handler Series and # 9 all breeds and then thrilled us by winning the Owner Handler Group at the AKC invitational show in December in Orlando, FL.

Wesley is OFA Excellent, OFA Eye Normal and a PRA DNA Carrier.

Photo by TDP photography
| | |
| --- | --- |
| Meet 'Willie', Ocoee Born To Be Wild. He lives in California with Tom and Laura Burke. He is by Ch. Ocoee Figure It Out ex Ch. Ocoee Go Wild!. As a youngster he has some lovely wins including a major and a Best in Sweepstakes. We love this boy and are so proud of the job Laura is doing with him. | Ocoee Born To Be Wild |
| | |
| --- | --- |
| Ch Ocoee Winsome Out and About | We would like to congratulate Martha Warnock on her brand new Champion, Ocoee Winsome Out and About. Martha owner handled Nigel to his title in tough Southern California competition. He is by Ch. Ocoee Figure It Out ex Ch. Legendary Elegant Shimmer. Way to go Martha! Now Nigel will be working on titles to add to the other end of his name. |
Our thanks again to the talented Trisha Dunn for these new unretouched portraits of our beautiful Ch. Ocoee Figure It Out. At maturity he looks remarkably like his ancestor Ch. Ocoee Living Proof, whose head study graces the top of this page.



Am Grand CH/Can. CH. Ocoee Away We Go
photograph by Trisha Dunn

Beautiful Zac Brown is an all breed Best in Show winner and a Specialty Best of Breed winner and was a Top Ten Springer for both 2015 and 2016. He has three CH children and Kathy Niebruegge in California.

He is OFA Good and Elbow normal and eye normal.
Our first Champion for 2015 is the lovely Tiffany! She finished completely owner handled by Melanie, with four majors including five points at the January 2015 Chattahoochee Specialty. Many thanks to her breeders Pat and Ron Jansen for sharing her with us and to Trisha Dunn for the great photography and ad design.

Tiffany will most likely be bred in the second half of 2015.




Ch. Pawmarc Ocoee Dazzled By Magic
Wesley and his owner-handler Sandy McKinney are pictured here going Best in Sweepstakes and Best of Winners at the Puget Sound ESSA Specialty show in August 2014 under Australian breed experts Kaye McGhie and Jessica Jolly. To date Wesley has five Best In Sweepstakes wins and three Specialty majors! Thank you Sandy for your expert conditioning and presentation of Wesley. We are sure he has a bright future!

FLASH Wesley finished his CH with a fourth major at a Supported Entry show at just 17 months of age. Thank you to Sandy and Rod for all you have done for Wesley to make him shine.

Ch. Ocoee Wild About Hunter

This is Wesley's littermate Samuel with his owner-handler Karen Nicholas Clower. Samuel finished with four majors, two at Specialties)completely owner handled by Karen. Karen and Samuel are a beautiful team and Karen keeps him in glowing condition! Thank you Karen for your hard work!

These boys are by Ch. Ocoee Figure It Out ex Ch. Ocoee Go Wild. They have two more pointed litter mates and the repeat of their breeding was born in October at Ocoee.

CH.Ocoee Out Of The Wild

Melanie and George at sunset overlooking the beautiful Puget Sound after winning the PSESSA Specialty show.


Theo on the lawn at Purina Farms in Eureka, MO.

Both photos by Trisha Dunn

April 30- We are so happy with how well our family of dogs fared at the GCESSC Specialties in CA last weekend. Baby Wesley (Ocoee Wild About Hunter) was BOS in Sweeps, WD, BW and Best Puppy (and a four point major!) on Saturday, handled by his owner Sandy McKinney. He was again BOS in sweeps on Sunday and first in his regular class!

On Saturday Ocoee and Heartlands on her Way, owner handled by Nancy Amante, was 1st in the Open Bitch class. "Connie" needs just one point to complete her CH title.

Also on Saturday, Benny's beautiful daughter Pridemarks's Lasting Affection, was WB from the BBE class for four points, handled by her breeder owner Tammy Osborn. She was RWB on Sunday too.

Way to go gang!!



April 2014 Update!

We are thrilled to announce that Melanie and George won their 16th and 17th Specialty Best of Breeds at the back to back Sacramento ESSC shows!

We are also thrilled to share that George is the ESSFTA Show Dog of the Year AND the Sire of the Year for 2013! We are humbled and grateful by how this dog has been accepted by the Springer community and the dog fancy in general.

Our Wild Bunch boys are off and running! Congratulations to Karen Clower in Texas and her Ocoee Out Of The Wild on a Specialty Best in Sweepstakes, two Specialty Reserves and a Best Puppy! And to Sandy McKinney and her Ocoee Wild About Hunter who has won two Best in Sweepstakes, one BOS in Sweepstakes, a Specialty Reserve and a Best Puppy! Keep up the good work boys. We are looking forward to the other litter mates starting out soon.

As we enter our 42nd year with this wonderful breed, we are so gratified to look back at 2013 and the amazing successes that we had.

Melanie and her boy George finished the year as #1 Springer all systems, and he was shown only at about half the number of shows that his closest competitors were. Winning the National, and the Top Twenty, and the breed at the AKC/Eukanuba show, were all highlights that we will never forget.

We were also thrilled that many new Champions that we bred, and many more sired by our stud dogs, finished in 2013. There are more just around the corner.

Our first CH of 2014 is the lovely Ch. Ocoee Out of Bounds, by Ch. Ocoee Figure It Out ex Ch. Legendary Elegant Shimmer. He is owned by Gay Bunnell and was shown by Julie Kay. He finished at a very young age and had multiple Specialty wins!

Our 'Wild Bunch' litter, by Ch. Ocoee Figure It Out ex Ch. Ocoee Go Wild! have just started their careers and we are so proud of Wesley (Ocoee Wild About Hunter) for bringing in the first Best in Sweepstakes!!! We are so excited about the future of all five of these smashing littermates.


Website created and managed by Kathy Lorentzen. Copyright 2016 All Rights Reserved.